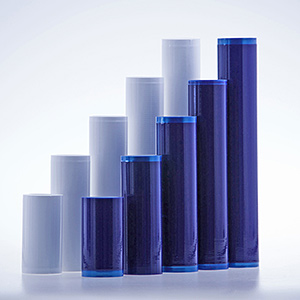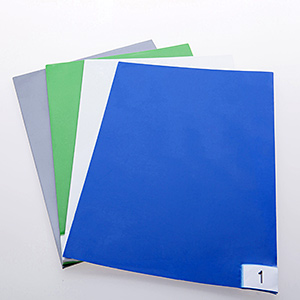 KLIN TACKY MATS
The tacky mat offers simple and efficient way to control and capture particles and other foreign contamination at entrances of controlled or critical areas.
Widely used in electronics, hard-disk drive,
pharmaceutical, medical and food processing industries It has different level of tackiness which suits for different applications.
Composed of easy to peel-off films, it is very effective in managing all foot and wheel-borne particulates contaminating a controlled working environment. It comes with different level of tackiness and sizes.
Anti-static or anti-bacteria mats are also available for EPA and medical or lab facilities.
Features
Multi-layered adhesive layers effectively capture dirt and dust from shoes and wheel castors before entering the controlled environment
Layers are numbered for easy tracking of remaining sheets
Easy peel-off sheets make it easy to dispose and maintain a clean surface
With above 90% microbial disinfection rate (Anti-bacterial mats)
ESD safe (Anti-static mats)
Available in 24"x36"x40um / 36"x45"x40um, Low ~ High Tackiness
Colors available: White, Blue, Gray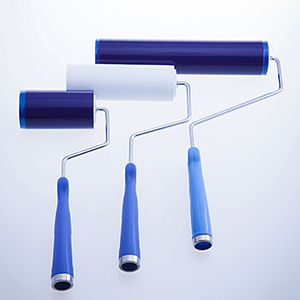 KLIN TACKY ROLLER
The tacky roller provides a simple and efficient mean of removing particles on flat surfaces such as walls,
ceilings, floors and table tops. The disposable adhesive sheets are made of polyethylene (PE) film, similar to tacky mats. Used and contaminated sheets can be peeled off to expose a clean one and ready to be used again.
Features
Large-diameter core provides a generous cleaning area, resulting in less frequent sheet disposal
Adhesive sheets quickly and effectively capture particles on flat surfaces
Handles and refills can be purchased individually or in sets
Suitable to use in controlled manufacturing environments
Available in 4" ~ 12" (width), 30~50um, Low ~ High Tackiness
Colors available: White, Blue